Pakistan Telecommunication Company Limited provides several payment options for the PTCL Bill. The company has always tried to pursue innovative techniques to facilitate its customers. On this page, you can discover the various ways to pay or check your PTCL bills online, using your phone number, account ID, or Jazz Cash. In the case of bill copy, you can check PTCL duplicate bill online.
3 Ways to Check PTCL Bill
By Phone Number
Click on PTCL Landline/Vfone PostPaid.
Write your Phone Number and click on "Inquire Bill".
Check the PTCL Bill With Account ID
Click on PTCL Landline/Vfone PostPaid.
Select "Account ID" from the Inquire Bill by list and click on "Inquire Bill".
Find PTCL Account ID:
Following is a picture of a random PTCL E-BILL bill. The red arrow indicates where the PTCL account ID is mentioned.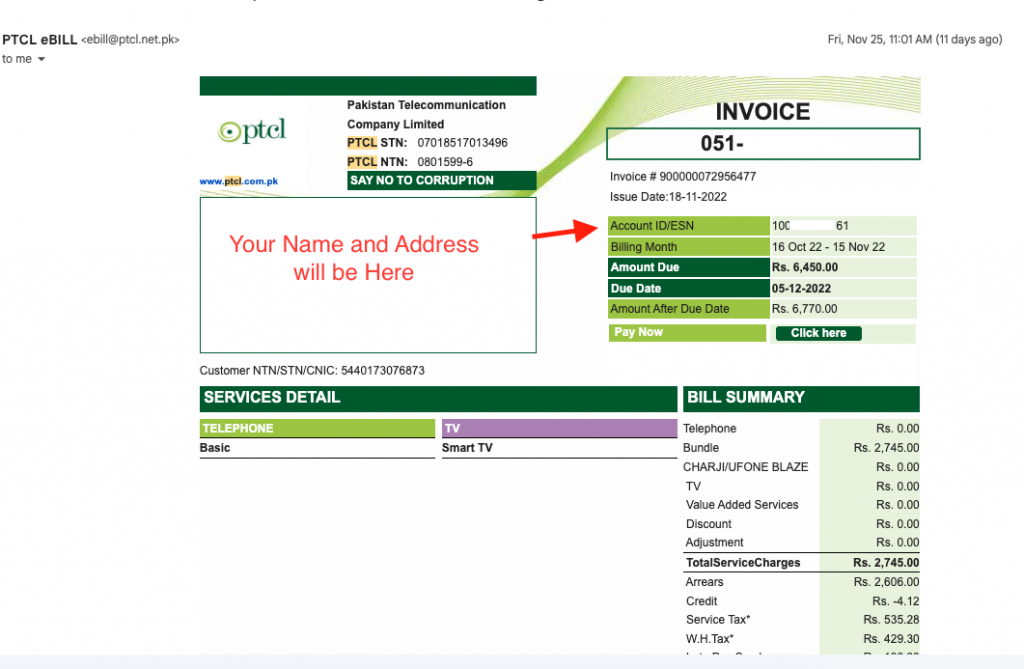 Account ID is a ten-digit number that is used to extract your ID/Password or create a new login. It is the easiest method as everyone has an old bill at home or they can print it out quickly.
Steps to Pay PTCL Bill by Jazz Cash
Open the Jazz Cash app on your phone and click on the "Pay bills" tab.
Select Telephone
Select PTCL Landline(Same for Broadband Internet) or PTCL Vfone
Put your consumer Number(Account ID) in the blank and click on next.
Finally, your Bill Status will appear.
Pay the monthly Bill amount.
Users can also use the Jazz code to check and pay their PTCL bill by dialing *786#. Simply select the "Pay bills" option and follow the instructions.
Download PTCL Duplicate Bill Online
Go to https://dbill.ptcl.net.pk/.
Click on "PTCL Landine" or "PTCL Charji/EVO" according to your requirements.
Enter your Phone Number(Without Area Code) and Account ID.
Click on Search.
That's it, download or print the bill directly according to your requirements. It must be noted that the bill will be in PDF format. Use Acrobat Reader or any other pdf file software, to open the PTCL duplicate bill file.
Why do you need a PTCL Duplicate Bill?
You may need a PTCL Duplicate Bill for various reasons; personal and official use.
For example, if you change your CNIC's address, the authorities will request the PTCL bill as evidence of your new address. For that purpose, the customer can submit a duplicate copy of the bill. In other circumstances, like canceling the phone or internet connection, the company's policy requires attaching the previous statement.
PTCL Bill Payment via Cash Payment Machines
Similarly, like ATM depositing machines, Public Cash Payment Machines (PCPMs) deposit cash for billing. As a result, customers can save their time by using the easy-touch user interface available on these machines.
The benefit of Paying the Bill Online
Firstly, it's more convenient and easy than having to go through the hassle of going to an office or waiting in line.
Secondly, you can avoid late payment penalties by paying on time.
And lastly, it helps keep track of your expenses so you're always aware of how much you're spending each month on telecommunications services.
The company has also provided details regarding the taxes to get a PTCL withholding income tax certificate.
Landline, Internet, and Wireless Billing
Landline and Broadband Internet billing charges consist of the phone line rent, local and internet call rates, broadband internet packages, and Add-ons (Smart TV, etc.). The Smart TV charges are included with the internet and depend on whether you have paid the full amount for the IPTV device or not.EVO, Charji, and Vfone billing include the communication charges by internet data usage or the post-paid package applied.
Recently, PTCL has also added the telephone and internet setup charges, including the installation charges according to the reference number.
Important Notes
Provide a valid e-mail address. Thus, it will ensure that your monthly e-bill is regularly mailed.
Contemporary, the company provides you the facility to pay bills conveniently via Upaisa Agent or Upaisa Wallet. In this case, you just have to provide your Area code and landline number instead of the Account/reference number.
Unable to pay the bill for 3 months will result in a disconnection. To clarify, you have clear arrears to resume your connection.
Complaint
In case of any complaint or question regarding the bill then use the Helpline Numbers. However, customers can call anytime 24/7 for a PTCL complaint.
Generally, the customer service is quite helpful. They will listen to your complaint or issue carefully and will try their best to resolve it.